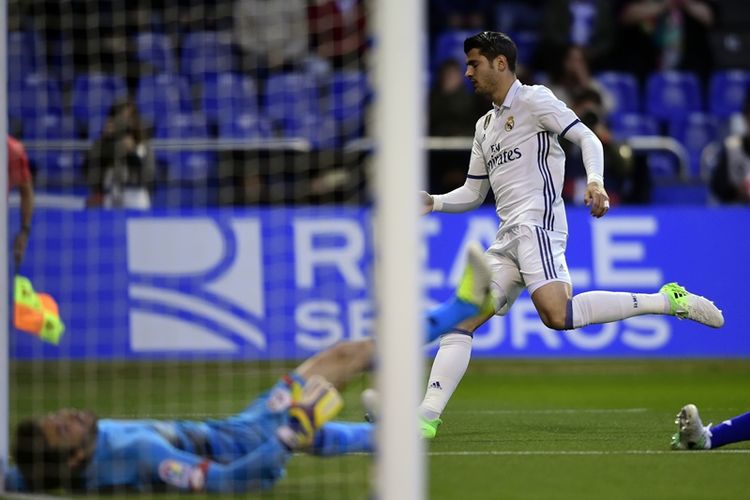 The Impact That Could Happen If Chelsea Successfully Recruit Morata
If you see the progress of striker Alvaro Morata (24) move from Real Madrid to Chelsea lately, it seems that the transfer is only a matter of time.
If that really happens, it's interesting to listen to the domino effect of the transfer.
Chelsea made Alvaro Morata the main target of the transfer after failing to sign Romelu Lukaku (24) from Everton.
The latter name has now officially joined Manchester United with a ransom of 75 million pounds (about Rp 1.3 trillion).
Previously, Man United also made Morata as the main target as the spearhead of the attack to replace Zlatan Ibrahimovic (35) whose contract is not renewed.
However, Morata failed to join the Old Trafford camp. This is because the Red Devils have objected to meeting the price demands of Real Madrid.
As reported by Telegraph on Wednesday (7/19/2017) local time, Real Madrid is believed to have agreed a bid of 75 million pounds from Chelsea to remove Alvaro Morata.
If Chelsea really bought Morata for that price, the former Juventus striker will be the most expensive player in the club's history.
The record is currently still held Fernando Torres who brought off from Liverpool in January 2011 with 50 million pounds (about Rp 870 billion).
From Morata's transfer, there are some domino effects that are believed to happen and enliven the transfer market players in Europe. Here are some of them:
Diego Costa is wasted
The first thing that will happen is Chelsea's attempt to sell striker Diego Costa (28) at a decent price.
Actually, Diego Costa is the mainstay of Chelsea when winning the Premier League 2016-2017. However, his desire to leave has left Manager Antonio Conte out of his plans for 2017-2018.
Atletico Madrid touted to be the primary goal of Diego Costa to continue his career.
However, Los Colchoneros objected if you have to redeem the Brazilian bloody Brazilian striker for 60 million euros (about Rp 921 billion) that has been pegged the Blues.
There has been no recent news about the club that plans to sign Diego Costa, outside the Chinese clubs who are believed to be ready to redeem the price set by Chelsea.
AC Milan Focus Changed
The second impact of this Morata transfer is a change of focus of the transfer that will be done by AC Milan. The reason, the Rossoneri also make Morata as one of its biggest target.
Based on news from various Italian media sources, Milan is said to have made a bid of 70 million euros to Real Madrid to have Morata.
However, it seems Real Madrid are more interested in negotiating with Chelsea.
If Morata has officially joined Chelsea, AC Milan will divert their target to other big targets.
In addition to Morata, the coaching team coach Vincenzo Montella was also eyeing Andrea Belotti (Torino) and Pierre-Emerick Aubameyang (Borussia Dortmund).
Saga Mbappe Transfer Continues
The third impact of this Morata transfer is Real Madrid's chances to bring in their most wanted young players today, the 18-year-old US-based Monaco striker Kylian Mbappe Lottin.
Armed with a record 26 goals in various events of the 2016-2017 season, Mbappe became the hottest transfer commodity.
He invited interest from big clubs, such as Paris Saint-Germain, Arsenal, Chelsea, FC Barcelona, ​​and of course Real Madrid.
With fresh funds coming into the pockets of Real Madrid from Morata's sales of £ 75 million or equivalent to 85 million euros, Los Merengues management will have the freedom to redeem Mbappe's release clause with Monaco at 125 million euros (about Rp 1.9 trillion).
Interestingly enough to see if the scenario from the Morata domino effect of transfer will run as predicted or not.
At least there is still plenty of time for all clubs to bring in new players before the 2017 summer transfer window is officially closed around 1 September 2017.